Description
SOUNDS FROM BEYOND
Sounds From Beyond
is a sound design toolkit tailored for sci-fi, action, suspense, and out-of-this-world-audio. This gripping and dramatic collection represents our genre-busting partnership with 3 of our favorite designers from around the world to provide a fresh, diverse, and evocative arsenal of spacey cinematic tools. We present these exhilarating sounds in a simple yet powerful engine with an accessible and easy-to-use feature set to quickly inspire your most bizarre and otherworldly creations.
Sounds From Beyond contains 1500 energizing samples (over 10GB of content) in 9 categories – Collisions, Dreamscapes, Evolutions, Implosions, Interference, Launches & Landings, Movements, Rumbles, and Voices. They're specifically crafted to blast the listener into the darkest reaches of outer space and to add punch and a hint of the unknown to your compositions.
FEATURES & REQUIREMENTS
FEATURES
9 categories of tonal, atmospheric sound design for sci-fi, action, suspense, and out-of-this-world audio
A collaboration with 3 of our favorite sound designers
Simple yet powerful engine designed for endless creativity
Modern, easy to use, feature-packed GUI
8-slot FX rack
Includes watermarked drag-and-drop .wav files for all samples
10.1 GB of content / 1,499 samples (24 bit/48kHz WAV)
REQUIREMENTS
NI Kontakt (full), version 6.7.1 or above
12 GB disk space
4 GB RAM (8 GB recommended)
2013 or later processor. Your system must also meet the requirements for version 6.7.1 of Kontakt. If you cannot run that version, you will not be able to load this library.
Articulations
INSTRUMENTS
36 Collisions
36 Dreamscapes
36 Evolutions
36 Implosions
36 Intereferences

36 Launches & Landings
36 Movements
36 Rumbles
42 Voices

GUI
Sounds From Beyond Kontakt instruments feature a clean and simple, 1-page GUI with all the controls you need to get the most out of the library, including creative Sound & Rhythm panels and an 8-slot FX rack.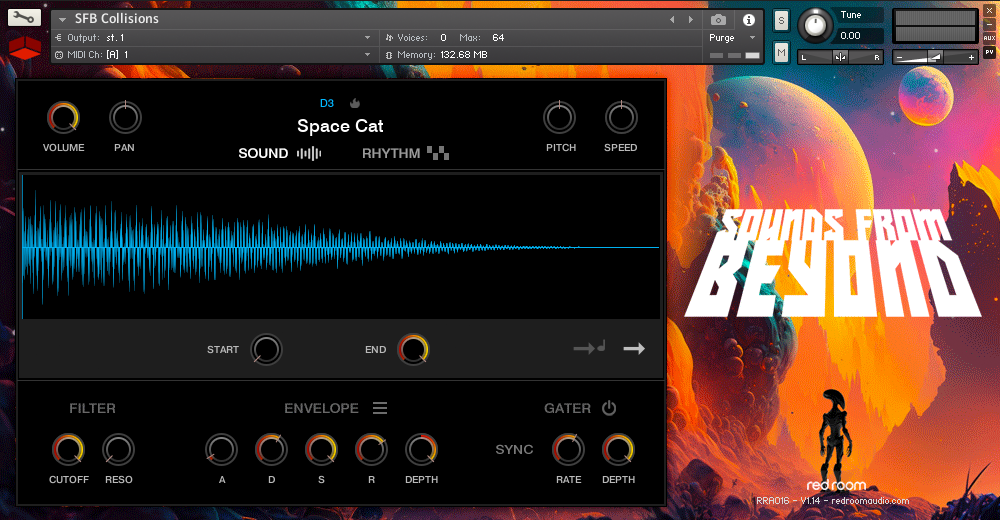 MAIN GUI (Sound panel)
Volume, Pan, Pitch and Speed controls
Waveform display with Start & End knobs
Sample reverse
Filter, Gater and Envelope controls
8-slot FX rack
Reviews
"Sounds From Beyond is a welcome addition to the 'Sounds From' lineage. This new venture packs everything into a single library with around 1500 out of this world samples to provide possibly everything you need to score your next sci-fi fantasy related epic."
-KKaccess.com | FULL REVIEW
"I found a lot to really enjoy in this library. It feels really cohesive overall; you could play these sounds together and they'll work really well. Although geared towards cinematic and sci-fi, there are definitely other genres you could use this in. "
-William Morris Music | FULL REVIEW