Description
THE TRAVELER SERIES

Welcome to Red Room Audio's Traveler Series
, an ongoing collection of boutique sample libraries featuring traditional world instruments faithfully
recorded on location
from destinations around the globe.
Traveler Series libraries focus on delivering a genuine purity that can only be captured where the instrument and musical style originated, preserving its true character and history. We seek out a region's most skilled and renowned performers; amazing folks with stories and bloodlines who live and breathe traditional provincial music. We leave with an education and appreciation for their culture and the role these beautiful instruments serve (as well as a tale or two of our own). We hope our Traveler Series adds an authentic native spirit to your music.
CELTIC FIDDLE
The fiddle is one of the most important instruments in Celtic music. The fiddle itself is identical to the violin, however it is played differently in widely varying regional styles. Compared to classical violin, Celtic fiddlers tend to make very little use of vibrato. Melodies are embellished through forms of ornamentation, such as cuts, rolls and a variety of grace notes. Slow airs are occasionally performed, but the style is best known for fast, snappy reels and jigs.
For our Celtic Fiddle we journeyed to Dublin, Ireland where we had the honor of working with award winning fiddler Niall Murphy. Niall has carved a reputation for himself in traditional Irish folk circles as a live performer and session player. A veteran of the trad scene, he has shared the stage with The Chieftains, Sinead O'Connor, Van Morrison, The Dubliners, Alison Krauss and many more.  We also had the pleasure of recording at Herbert Place Studios with producer/engineer James Darkin, who was an accommodating and gracious host to us weary travelers and did a fantastic job of running the show.
FEATURES & REQUIREMENTS
FEATURES
Deep-sampled Celtic fiddle recorded in Dublin, Ireland by award-winning fiddler Niall Murphy
Playable multi-sampled instrument with 7 standard articulations and 13 traditional Celtic ornaments
Over 360 Phrases & FX including rhythmic loops and free-form improvisations
2 types of sampled legato
4 performance modes including customizable Double Stops
Scale Lock feature automatically selects ornament intervals in the key of your song
TACT (Total Articulation Control Technology)
8-slot FX rack
Modern, easy to use, feature-packed GUI
Watermarked for copy protection
1.7 GB of content / 5,725 samples (24 bit/44.1 kHz NCW)
REQUIREMENTS
NI Kontakt (full), version 5.8.1 or above
2 GB disk space
2 GB RAM (4 GB recommended)
2008 or later processor. Your system must also meet the requirements for version 5.8.1 of Kontakt. If you cannot run that version, you will not be able to load this library.
Articulations
STANDARD ARTICULATIONS
Reel Sustain
Air Sustain
Fingered Legato
Slur Up Legato (HT, WT)
Staccato
Spiccato
Pizzicato
ORNAMENTS
Triplet
Hammer (HT, WT)
Pull (HT, WT)
Waterfall (HT, WT)
Wiggle (HT, WT)
Scrunch (slow & fast)
Cut
Roll

PHRASES & FX
Chops
Stomps
FX – Percussive
FX – Fret Noise
Endings (tempo-synced)
Lyrical Improvisations
Various Improvisations
Rhythms – Jigs (tempo synced)
Rhythms – Reels (tempo synced)
GUI
The Traveler Series Kontakt instruments feature a clean and simple, 1-page GUI with all the controls you need to get the most out of the library, including our TACT (Total Articulation Control Technology) and an 8-slot FX rack.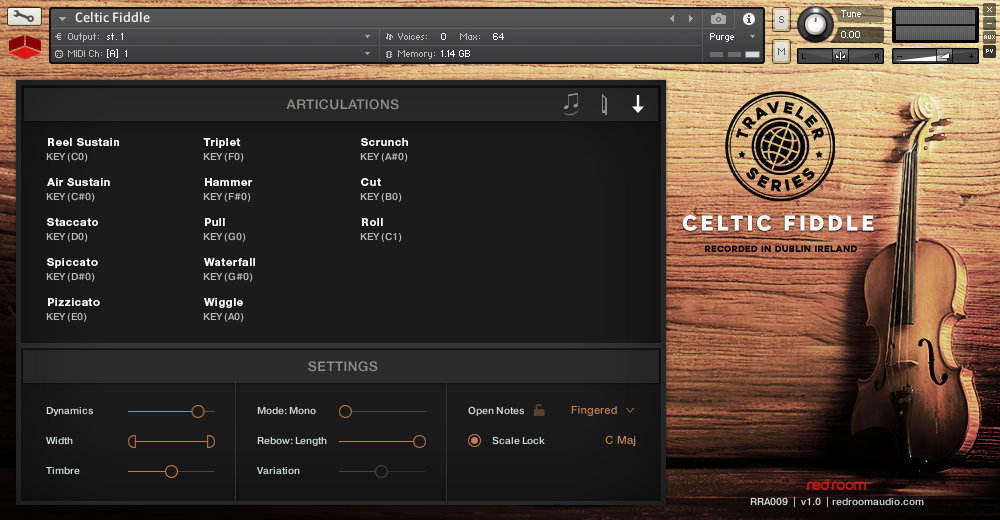 MAIN GUI
Articulations panel
Dynamics, Width and Timbre controls
4 performance modes
Rebowing & Open Notes controls
Scale Lock
TACT (Total Articulation Control Technology)
8-slot FX rack
Reviews
"If you want a true and authentic sound of traditional instruments, played on location by experienced players, in order to record the very root, heart and history of the sound the Traveler Series by Red Room Audio will feel like a blessing to you. Both fiddles have amazing playability. I instantly started playing The Shire Theme from LOTR, The Braveheart Theme, and others that simply felt natural as soon as I started playing these instruments. That to me, is the ultimate test of a software instrument… does it inspire me to play, and does it feel natural to perform on? The answer is yes to both these questions."
-ProfessionalComposers.com | FULL REVIEW