Red Room Audio is a developer of passionately crafted virtual instruments for songwriters, composers and sound designers.  A subsidiary of Los Angeles based, Constructive Stumblings, Inc. (a California Corporation), Red Room Audio works with contributing artists around the globe, it is our mission to create inspiring tools that make it easy for you to turn your musical ideas into art.
---
Back in the 1990's I was living in Chicago playing in a band and struggling to make rent.  I somehow managed to save up enough money to upgrade my Tascam 4-track (which I wish I still had) to a fancy Roland VS-880 digital recorder (wish I still had that, too).  I also got my hands on a heavily used Ensoniq EPS sampler, which came with a stack of unmarked floppies.  I remember eagerly inserting one into the drive and waiting for the mystery samples to load. When I pressed a key, out came the most glorious strings section I'd ever heard. I proceeded to spend the following weeks holed up in my makeshift bedroom studio under headphones, in command of an orchestra for the first time.  It was my personal introduction to the world of sampling and I was completely hooked.
I spent the next decade performing with various bands and ensembles, touring, writing music and gradually adding to my studio and producing skill set.  I became a huge fanboy of virtual instruments and spent WAY too much money collecting gear and sounds. I was also working as a graphic designer and learned I could save money and feed the beast by trading design services for samples.  I designed GUI's and web graphics for several developers whom I admired, eventually getting paid in actual currency when they ran out of libraries to offer.
In 2014 I accepted a position as Project Director and Creative Lead at Impact Soundworks. I learned quite a bit from ISW about the sampling industry; from how to design, record and build virtual instruments to good business approaches and practices. I started designing and producing a few libraries myself, gaining experience through various successes and failures. Three years and several instruments later I decided (perhaps foolishly) I was ready to give it a go on my own and, with the help and support of Impact Soundworks and the contributions of some very talented colleagues I've met along the way, formed Red Room Audio in 2017.
To this day, I still get the same rush out of discovering and playing virtual instruments as I did when I pressed the keys of that old Ensoniq sampler some 30 years ago. I promise to put that passion into every Red Room product, because who knows… maybe YOU are pressing that key for the very first time.
-Dickie Chapin, Owner
Red Room Audio
---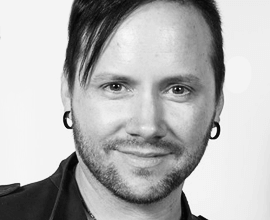 Owner / Instrument Designer
Dickie Chapin
Dickie began designing GUIs and promotional graphics for virtual instrument developers in 2010.  His clients included ProjectSAM, Sonokinetic, Soundiron, Embertone and others.  In 2014 he accepted an exclusive position as Creative/Project Director for Impact Soundworks and developed an interest in designing Kontakt instruments from the ground up.  His ISW library design credits include Bravura Scoring Brass, Rhapsody Orchestral Percussion & Colors and Ventus Ethnic Winds.  With his accrued industry experience and ongoing support of Impact Soundworks, he formed Red Room Audio in 2017.  Dickie has been writing, recording and producing for 20 years and has traveled the world performing with various orchestras, choirs, jazz ensembles and rock bands.  In his down time he and his wife are busy raising two amazing girls and one very charming Maltipoo.