Description
THE TRAVELER SERIES

Welcome to Red Room Audio's Traveler Series
, an ongoing collection of boutique sample libraries featuring traditional world instruments faithfully
recorded on location
from destinations around the globe.
Traveler Series libraries focus on delivering a genuine purity that can only be captured where the instrument and musical style originated, preserving its true character and history. We seek out a region's most skilled and renowned performers; amazing folks with stories and bloodlines who live and breathe traditional provincial music. We leave with an education and appreciation for their culture and the role these beautiful instruments serve (as well as a tale or two of our own). We hope our Traveler Series adds an authentic native spirit to your music.
BODHRANS & BONES
The bodhran is an Irish frame drum with an open side so one hand can be placed against the inside of the head to control the pitch and timbre. It is struck either with the bare hand or a variety of "tippers" and is said to have been developed as the "poor man's tambourine" by farmers who couldn't afford the metal. Bones are an instrument often used in traditional Irish folk music, as well as Bluegrass and zydeco.  It consists of a pair of animal bones or pieces of wood played by holding them between the fingers and moving the wrist in such a way that they knock against each other.
For Bodhrans & Bones we journeyed to Dublin, Ireland to work with Marcin Oracki, owner and drum builder at Mighty Bodhrans. Marcin has been passionately crafting bodhrans, hosting workshops and performing live for two decades. We also had the pleasure of recording at Herbert Place Studios with producer/engineer James Darkin. Our spirited sessions were fueled by coffee, visits to Searsons Pub, and friendly personal insults and were a complete riot.
FEATURES & REQUIREMENTS
FEATURES
6 unique Irish bodhrans and 2 sets of bones recorded in Dublin, Ireland by bodhran maker Marcin Oracki
Drums sampled with 5 stick types at multiple zones: center, mid, edge, rim and shell
"Frankensampling" approach provides realistic pitch and dampening control and
individual transients and sustains
2 sets of Bones with hits and rolls
8-slot FX rack
Modern, easy to use, feature-packed GUI
Watermarked for copy protection
2.2 GB of content / 20,460 samples (24 bit/44.1 kHz NCW)
REQUIREMENTS
NI Kontakt (full), version 5.7 or above
3 GB disk space
2 GB RAM (4 GB recommended)
2008 or later processor. Your system must also meet the requirements for version 5.7 of Kontakt. If you cannot run that version, you will not be able to load this library.
Articulations
INSTRUMENTS
Bodhran 1 – 15 ½" x 6" deep light shell with medium weight goat skin
Bodhran 2 – 14" x 6" light composite shell with light weight calf skin
Bodhran 3 – 14" x 5" deep light composite shell with medium weight calf skin
Bodhran 4 – 14" x 5" medium weight birch shell with heavy calf skin.
Bodhran 5 – 12" x 5" medium weight birch shell with medium weight goat skin,
plus a second layer of goat skin to cut out overtones.
Bodhran 6 – 12" x 4" medium weight birch shell with heavy goat skin
Bones, 2 sets (ebony & actual bone)
ARTICULATIONS
Stick types (Bodhrans):
Wood tipper
Hotrod tipper
Loose Brush
Tight Brush
Fingers
Drum Zones (Bodhrans):
Center, Mid, Edge, Rim, Shell
Bones:
Hits & Rolls
GUI
The Traveler Series Kontakt instruments feature a clean and simple, 1-page GUI with all the controls you need to get the most out of the library, including our robust 8-slot FX rack.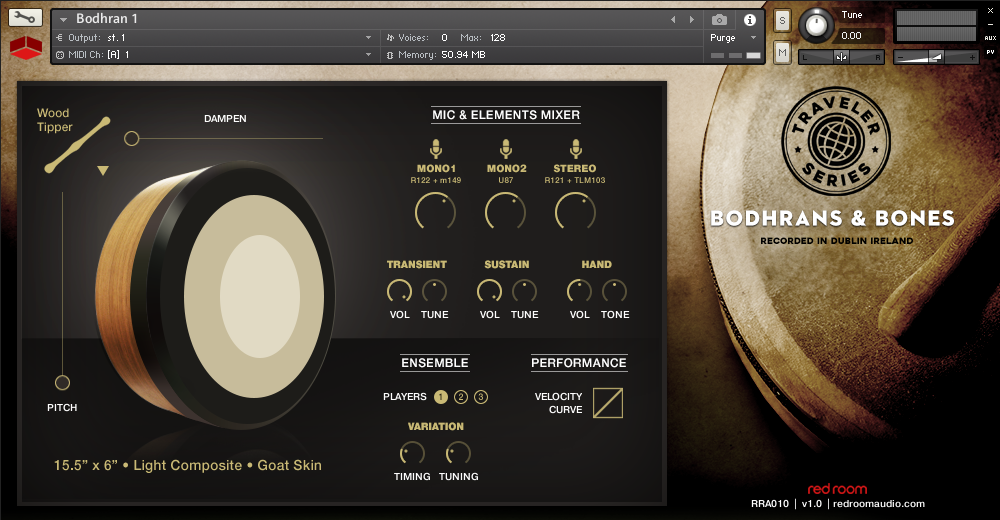 BODHRANS GUI
Stick type menu
Pitch & Dampen controls
Drum zone display
Microphone & Elements mixer
Ensemble Mode
Velocity curve control
8-slot FX rack
Reviews
"This isn't the only frame drum sample library out there, but it is definitely one of the most comprehensive ones. With its pretty, intuitive interface and beautifully recorded instruments, the attention to detail and quality is apparent. The way you can change pitch and dampening of the bodhrans allows for truly realistic performances, and with such ease. The various types of drums and articulations offer a surprisingly wide palette of sounds."
-Rekkerd.org | FULL REVIEW
"If you want a true and authentic sound of traditional instruments, played on location by experienced players, in order to record the very root, heart and history of the sound the Traveler Series by Red Room Audio will feel like a blessing to you. I was actually very surprised by how much I enjoyed the Bodhran because of the power and control it gave me as a composer to control both the pitch and also to dampen the sound. This gave me ideas for making energy-rising rolls, crescendos, fills etc. for transitions."
-ProfessionalComposers.com | FULL REVIEW